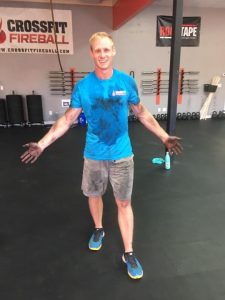 What is your favorite WOD?
Can't think of a favorite WOD. I prefer longer, higher rep, grind-it-out WODs.
What is your least favorite WOD?
Open workout 16.5 (21-18-15-12-9-6-3 Thrusters and Burpees)
What is your favorite lift?
Power Clean
What is your least favorite lift?
Overhead Squat – no question
What did you do before CrossFit?
I did a bunch of random types of workouts – Insanity / P90x for a couple years along with Interval Training, weight lifting and Yoga.
What did you think after your first CrossFit experience? How does it compare to now?
I thought I was in decent shape before joining CrossFit. After the first week, I knew I had a long way to go. I was so sore, but I couldn't wait to get back to the gym.
What special memories or achievements have you had since you have been at CF Fireball?
Legless rope climbs and seeing continued progress on lifts. Seeing a new PR or faster time on a benchmark workout is really rewarding.
What advice would you give to a newcomer joining CrossFit Fireball?
Pick one skill or movement you want to improve. Before or after class, work on improving that area and ask the coaches for some tips or pointers. You'll be amazed at how quickly you see improvement. This will give you motivation to pursue improvement in another area.
How did you become involved with CrossFit?
I stopped working out for about 2-3 months, because I was so disinterested and dissatisfied with my ordinary routine. My wife and I walked by a CrossFit gym near our house in Minnesota on a regular basis, but I was hesitant. Finally, one evening I saw the CrossFit Games on ESPN and decided I was going to give it a try. A friend from work and I joined at the same time and were hooked.
What is the biggest change you see in yourself since starting CrossFit?
There have been so many beneficial changes: physical and emotional strength as well as great friendships I've developed through it.
What are your hobbies outside of CrossFit? What is your profession?
Golf, Fishing, walks with our dog (Remi), going to the beach and staying active. I work in Operations Finance at Hertz.